SHB Da Nang won a victory over Sanna Khanh Hoa in the last round. However, coach Le Huynh Duc is still not satisfied with the professional quality of this match, especially the referee Pham Hoang Cong Khanh.
SHB Da Nang had an impressive match on Hoa Xuan's yard. Welcoming rival Sanna Khanh Hoa, Le Huynh Duc and his teachers and students were full of confidence and joined the game with excitement. Many situations can be transformed into goals in the first half created, unfortunately, that striker Do Merlo proved quite ungainly, making the first half closed without any goals being scored.
Entering the second half, SHB Da Nang continued to raise the squad to push the opponent. After nearly half an hour of hard work, Le Huynh Duc and his teachers had a goal in the 72nd minute thanks to midfielder Anh Tuan.
However, SHB Da Nang almost hated it because of wasting so many opportunities, when Olivera brought the match to the starting line with a penalty of 11m in the 85th minute. curing the mistakes from the beginning of the match with a broken goal to raise the score to 2-1.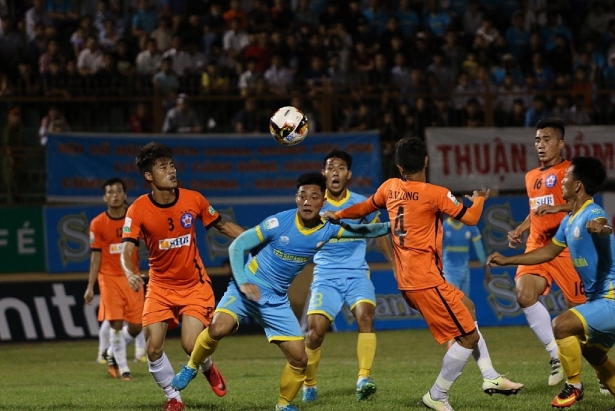 SHB Da Nang won the emotion before Sanna Khanh Hoa
After this match, what makes Coach Le Huynh Duc feel the most bothered is the financial referee Pham Hoang Cong Khanh:
"This game is a bit short of luck and we have bad luck. Referees have inhibited our players. They give up a lot of situations to blow clear penalties that make the last minutes tense. I think the referee Khanh blows. It is a disadvantage for us in recent seasons, a lot, I hope that BTC should review this match according to each specific situation. "
Coach Le Huynh Duc is the expert of V-League referees
Huynh Duc was very annoyed by the unreasonable decisions of the referee. Not only that, even the players on the pitch proved to be very inhibited. Huynh Duc said that SHB Da Nang deserves a penalty in the case of Tuan falling in the penalty area, however, the referee said no. This decision greatly affected the battle of SHB Da Nang in the next minutes.
In this round, another coach who must speak out for the quality of the referees is Mr. Chung Hae-soung. The Ho Chi Minh City strategist called on the V-League organizers to carefully review the expertise of the black-shirted kings if they want to improve the quality of the tournament as well as pull the fans to the stadium to watch the clubs playing every weekend.
Source: thethao247.vn