Captain SHB Da Nang has complimented students on the spirit of competition in past matches.
During the reception of Sanna Khanh Hoa in the 9th round, SHB Da Nang showed its outstanding strength in style and play style. However, the oddness of Do Merlo's oddness makes the Hoa Xuan Stadium team unable to penetrate the visitor's team in the first half.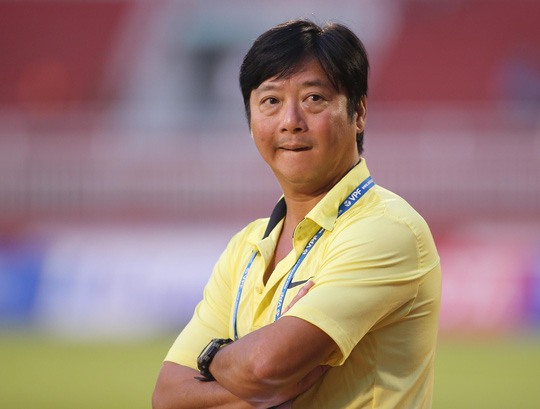 Coach Le Huynh Duc is satisfied with what his students have shown last time. 
Not wanting to be scored on home turf, SHB Da Nang continued to push up the squad at 45 minutes remaining. After efforts to push, the results came to coach Le Huynh Duc's army when midfielder Anh Tuan scored the opening goal in 72 minutes.
However, by the 85th minute, Olivera brought the match to the starting line with a successful 11m phase. Fortunately for SHB Da Nang when also from a similar situation, Do Merlo has fixed the score 2-1 for the home team.
Speaking after the match, coach Le Huynh Duc said: "I am satisfied with the spirit of the players in the past time. They have truly devoted themselves. You kicked well and showed your ability. Today, if we are more fortunate, we have won a different and easier way, not as hard as the last minute like this.
Many opportunities to score, but the story shook the opponent's net, taking advantage of the opportunity is still tantalizing us. No time can Do Merlo play as well as today, the match after he has to sit outside for a penalty card. Ha Duc Chinh, in addition to his unstable performance, had problems with his ankles today, so he did not have the best performance. "
SHB Da Nang has two consecutive victories at home. Photo: Viết Định.
Meanwhile, Coach Vo Dinh Tan was quite pensive when Sanna Khanh Hoa still stalled at the bottom of the table: "We are really difficult. Difficulty from humans with the injury of pillars. The position has not been improved yet, making it difficult for you to be psychological. With Khanh Hoa the following matches, it will be very hard. Also look forward to improving the situation, then wait for the turn in the turn-around period. "
In the next match, SHB Da Nang will have a trip to make guests very difficult to forecast before Hanoi FC.