Coach Le Huynh Duc said his pupil Ha Duc Chinh hid his ankle injury.
After the shot was shot down the goalkeeper Bui Tien Dung on Hanoi FC side in minute 71, Ha Duc Chinh was hurt. 3 minutes later, he was withdrawn from the field by coach Le Huynh Duc. Responding to reporters at the press conference after the 2-3 defeat of Hanoi FC of the home team, the captain on the side of SHB Da Nang gave unexpected information: "He is injured but he hides me. Injury of Duc Chinh's ankle is not heavy but not light. He felt uncomfortable, the same step. When I saw Duc Chinh finish, he was in great pain. "
He added: "Previously in the match against Quang Nam FC (March 2019 – PV), Duc Chinh scored. But then Chinh was injured. His ankles are very big. Chinh told me that he could only run and not pass and hit. That injury made him very uncomfortable. I had to find out forever and recently when I saw a new movie. I was thinking of sending Duc Chinh to PVF but now I don't have a striker.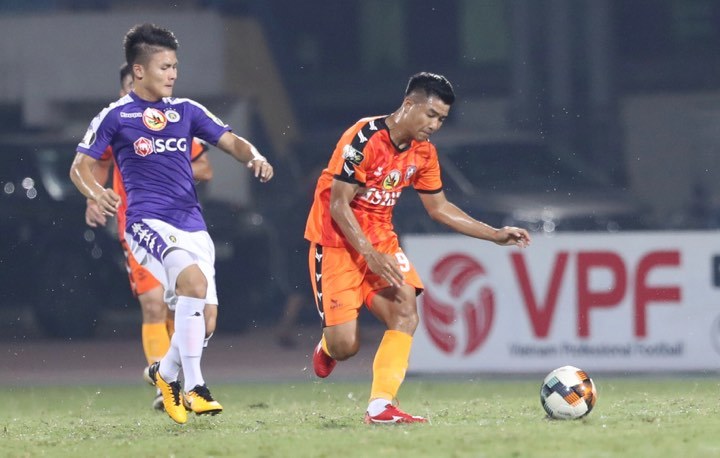 Duc Chinh recurred injury after a long-range goal in the 71st minute
Still, know Duc Chinh like that, but I have to admit I have no choice. The foreign strikers didn't play well. In fact, if I have time, I will let Duc stay to rest. Maybe after the turn, I can send Chinh to PVF for treatment. "
Because he is the main striker of U22 Vietnam and is one of the choices of Coach Park Hang Seo on the national defense, Duc Chinh is under pressure to score. Coach Le Huynh Duc shared with his students. He said: "I used to be a striker, under pressure like Duc Chinh. In the past, Le Huynh Duc had 3 games without scoring, the press said a lot. I understand that pressure and know what to do to share with my students.
Coach Huynh Duc no longer has a better option despite Duc Chinh's injury
I told Chinh that the striker's responsibility is not always to score. If you do not score then run, create a pass for the team to score, as long as the home team wins. This time, VFF and the coaches will be responsible for monitoring and selecting U22 and national teams. My job is to help them get the best performance. By the way, I also want the press to avoid putting too much pressure on young players. They need peace of mind, sharing. "
Source: bongdaplus.vn