In the match that coach Le Huynh Duc let Ha Duc Chinh striker sit on the bench, SHB Da Nang's Mr. Duc won a 2-1 victory over Khanh Hoa, and also made this team buried in the bottom position. . This is also a match where each side gets a penalty.
  After many disappointing matches, Vietnam's U23 striker Ha Duc Chinh was not kicked by Le Huynh Duc on the side of SHB Da Nang in the match at 9 Wake-Up 247 V-League.
The tallest kicker on the home side's attack is naturalized striker Do Merlo. Support for him is the foreign soldiers Patrick Edson and Dominik Norbert.
At the other end of the yard, Khanh Hoa continued to lack striker Toure Youssouf, causing Oliveira Warley to take the task of scoring goals for Khanh Hoa.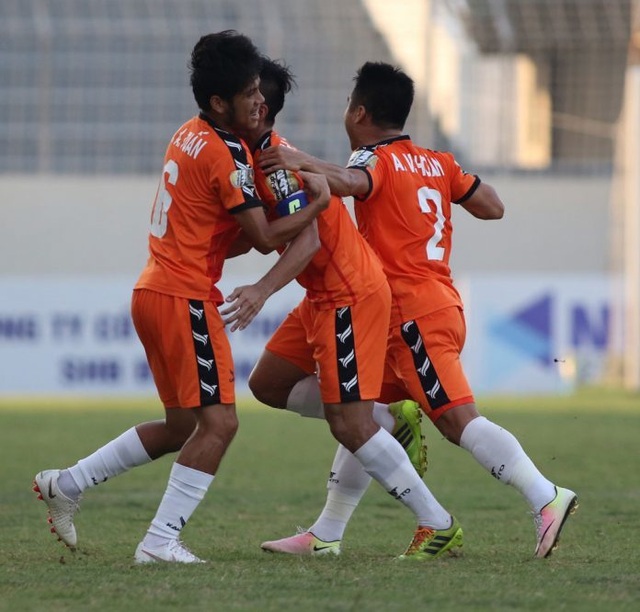 SHB Da Nang has the second consecutive victory in the last 2 rounds
  After the first half without a goal, the game became exciting from the second half, starting with the opening score of Dang Anh Tuan in the 64th minute.
In this phase, Anh Tuan outperformed Khanh Hoa defenders, finishing in the area of ​​16m50 of the visitors, defeating the national player goalkeeper Nguyen Tuan Manh on the side of the beach city, helping SHB Da Nang lead the way. 1-0.
After the losing goal, Khanh Hoa put his team up to fight back strongly, because coach Vo Dinh Tan's team is very thirsty to escape the bottom position.
After many efforts, the opportunity to come to Khanh Hoa in the 81st minute, when Oliveira Warley was pulled down in the area of ​​16m50 of SHB Da Nang. From 11am, Oliveira Warley himself beat the goalkeeper of the Han River team Thanh Binh, equalizing 1-1 for Khanh Hoa.
However, the above goal could not help the coastal team to win points in this match. Minutes of compensation for the first time of the second half, SHB Da Nang in turn received a penalty.
In turn, SHB Da Nang's natural striker Do Merlo had a chance to lose 11m, and like previous Khanh Hoa Oliveira colleague, Do Merlo successfully used his penalty kick, beating goalkeeper Tuan. Manh scored a 2-1 victory for Le Huynh Duc's troop.
The second consecutive victory after the last 2 rounds brought SHB Da Nang from the last group to the middle of the rankings. In contrast, the failure of the Han River team caused Khanh Hoa to sink deeply into the crisis.
After 9 rounds, the third-placed V-League team has only 5 points, ranking at the bottom of the rankings. This is also the second round in a row, Khanh Hoa stands in this unwanted position.